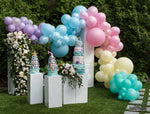 Hey you! Thanks for stopping by!
Hi Guys!  Welcome.  We wanted to take a minute to thank you for stopping by!  It's been such an exciting year at The Sweetest Thing Confection!  We have been working so hard with so many amazing Vendors and Artists both in Toronto and outside the T.O area to bring you the most beautiful assortment of balloons and yummy confections + party goods for your next event!  We are truly a one stop shop! If you don't see something here that you think we're missing please let us know!
And so now we finally have a website to match!  Beautiful to look at and now much easier to navigate thru!
We came to be in 2012 when I was on maternity leave and spent most of my days searching the web for something that didn't exist!  That's when we first realized how hard it was to get your hands on any kind of cool, colourful and magical decorations for a party, (especially in Canada) so we started to work with some of the best right here at home, in the U.S and worldwide to make them accessible & bring them to your front door.
We plan, coordinate, design and create some of the Sweetest events in our area.  So don't forget to call us if you want to take your event to the next level and let us help you make a birthday, shower or whatever is worth celebrating extraordinary.  
Look around, see what's new and sit back while we work hard to bring you the best assortment of PARTY ESSENTIALS!  Always Modern, Trendy & Fabulous!  You can find them here from anywhere in the world!
Lets get this party poppin'!
N. ❤️