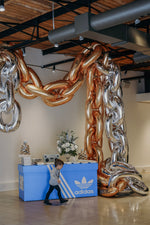 When we started this journey we realized pretty quickly that the hours were long and the financial investment was hefty but it became clear that this is what we were meant to do.  
We quickly became a Toronto staple and were one of the original OG's of Toronto's Balloon scene.  We added flowers to garlands when it wasn't really a thing people were doing.  
We have worked with some of Toronto's finest Vendors, some who are still around and others who have not survived the course because it really is a hard thing to be in the service industry as many of you know.  It's HARD work!
So what's in it for us?  The PEOPLE.  The reactions, the love we get back and the network of kick butt Mama's we have come to know.  The hustle is real and it's raw and its magical.
Thank you GTA, for accepting us into your homes and making us a staple.  We love ya!
The Sweetest Thing